Adjustable Length Rope Lanyard 2M
£30.50 Ex.VAT
Single Rope Lanyard Adjustable Length 2m with Maillon and Scaffold Hook
Item Number: 2003692
UK Erp Code: WRI-08A09
Rope Lanyard Adjustable 2m 1OM1 1RH2
Generous discounts are available, please contact us for more details on 0121 544 5208
Description
Single Rope Lanyard Adjustable Length 2m with Maillon and Scaffold Hook
Adjustable Length Rope Lanyards suitable for work restraint applications.
Rope Adjustable Lanyards for Work Restraint Applications.
Available with a choice of end fittings and working lengths up to 2m
Supplied with clear user instructions
Individually serial numbered certification for traceability
Pocket Inspection Guide
CE approved to EN358:1999
Anchor Connector/Harness Connector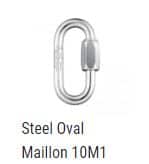 SpanSet Rope Lanyard as constructed from 11mm kernmantle rope to provide durability in the working environment. Sewn terminations mean the lanyard configuration cannot be altered and is easy to inspect for damage. The connector are captivated onto the lanyard terminations to ensure the load correctly in used and cannot be lost. The permanent fixture of the connectors to the lanyard also eliminates the need for separate inspection records for the lanyard and connectors.
 Product Technical Information:
Lanyard Leg Type: Single Adjustable Length
Energy Absorbing: No
Maximum User Weight: 140 kg
Individually Serial Numbered: Yes
Product Name: Adjustable Length Rope Lanyard
Individual Certificate: Yes
Multilingual User Instruction Manual: Yes
Inspection Guide: Yes
Colour: Black
Norms: EN 358: 2018
Label Protection: Yes
Main Material: Polyamide
Lifespan: 10 yr.
Packaging Unit (PU): pcs
Packaging Unit (PU) Content: 1